He is an innovator, an engineer, and a firm believer in inversion therapy's positive effects. Roger Teeter, like many of his customers, had chronic back pain that hindered him from doing what he loved and living a normal life until he discovered inversion treatment.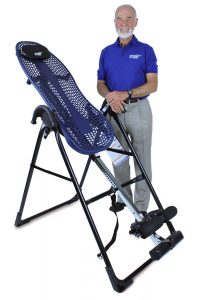 Teeter was started in 1981 by Roger Teeter and his wife Jennifer, who have dedicated their lives to spreading the word about the benefits of inversion treatment. At a water ski competition, Roger first learned about inversion. To add to his woes, an auto accident and years of water-skiing had taken their toll on his back.
Roger had to crawl to the bathroom on the worst mornings to run hot water over his back so that he could get through the day. He was able to function. A big brace with metal rods was also worn by him to stabilize his back while he skied for the next five years! For the first time, Roger was able to cure his backache by simply inverting.
For Roger, inversion therapy had a profound effect, so much so that he founded a firm that manufactures inversion items. Gravity boots from Hang-Ups, now known as Teeter, were STL's first foray into inversion tables. STL entered the market in 1981 with these gravity boots and inversion tables. Teeter has been generally regarded as the market leader, developer, and quality pioneer in inversion equipment for more than 35 years.
Roger Teeter is a University of Wisconsin graduate engineer. He's a fitness and sports equipment expert with more than 50 years of experience. For more than 200 projects, he has led the company in the development of new products for other companies, including several medical and dental items. American Water Ski Education Foundation (AWSEF) has honored Roger for his pioneering design achievements.
Teeter inversion Table
After a long battle to restore the reputation of inversion therapy, Teeter has seen a dramatic increase in the usage of inversion products in the late 1990s and early 2000s. The concept of "whole-body wellness," cherished by both fitness buffs and baby boomers, is well-represented by inversion. Aesthetics are no longer the primary consideration, but rather the concept of health and a longer life expectancy.
As a natural therapy, inversion has been proven to be beneficial for people of all ages and fitness levels, regardless of their current physical condition. In reality, the US Army Physical Fitness School has opted to incorporate inversion into its global physical training philosophy after several years of examination and research.
Newcastle University in England experimented in 2007 on patients who were slated for surgery because of sciatica. Inversion treatment was practiced by members of a group while a control group did standard stretching exercises while they waited for surgery to begin. Inversion therapy was a huge success for the group.
All workout equipment was evaluated in April 2008 and the Teeter Inversion Table obtained the highest rating. Teeter's name is synonymous with "inversion," and the company's goods are widely regarded as high-quality inversion devices around the world. Thousands of people have benefited from the use of teeter inversion devices.
Reasons Why Roger Teeter Invented The Inversion Table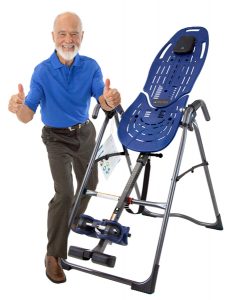 Back pain is the most common reason for using an inversion table. Teeter decompression isn't just good for relieving back pain; it's also good for improving posture and reducing stress! The body benefits greatly from inverting regularly, regardless of one's age or physical level.
Stretching After a Workout
Even though working out is essential to staying fit, weighted activities like squats and deadlifts, in particular, can put a lot of stress on your body. After your workout, spend a few minutes on the Teeter Inversion Table stretching to lengthen your body, decompress your spine, and release your muscles to reduce discomfort.
Building Stability from Within
Abdominal, external, and internal obliques, as well as the lower back, must all be strong to maintain a stable torso. Stability at the center of the body assists with posture, circulation, and flexibility. On Teeter inversion tables, crunches and sit-ups are great techniques to build and sculpt core muscles.
To Unwind
Do you get a feeling of anxiety or tension? Do you suffer from chronic pain in your neck or shoulders, or even tension headaches? We put our muscles through a lot of strain every day, whether it's because of bad posture, too much sitting, or a combination of these factors. Misalignments, poor posture, and tight muscles can cause headaches and back pain. Muscle stress has a long-term effect on our mood and sleep patterns.
Straightening your spine and promoting proper alignment are two benefits of inversion therapy on a Teeter Inversion Table (TIT). Within the first 10 seconds, one study found that inverting reduced muscle tension by a whopping 35 percent! A few minutes of inversion will allow you to feel your muscles soften and begin to feel more relaxed.
To Get Your Day Started Right in the Morning
There are two main reasons why Roger Teeter, the founder, and chairman of Teeter inverts every day "First, it is an extremely fast method to wake up! It's like two cups of coffee without having to wait for the caffeine to take effect. The second reason is that when I wake up, I am usually tight from sleeping curled up; inversion allows me to loosen up and stand tall. Both tasks may be completed in a matter of minutes at 60 to 70 degrees," I say.
Regardless of your age or history of back pain, decompressing your spine on a Teeter Inversion Table is the greatest approach to ensure a healthy back for the rest of your life. Your spine is just as important as your teeth, and you should brush it every day to keep it healthy.
To Prevent and Treat Back Pain
Back pain affects 80% of the population at some point in their lives. Differently, If you're looking for back pain alleviation. As opposed to medications or surgery, inverting on the Teeter Inversion Table is a natural, passive method of treating pain.
This is the "magic" of decompression, a unique stretching technique that relies on your body weight and gravity to treat back pain. Each of your weight-bearing joints receives the ideal amount of relaxation since the same loads that compress them while upright release them. Comfortable and convenient, this form of traction can be done at home.